Collectible antique figures and soldiers.
Created in 1996, the Boite De Soldats offers vintage toy soldiers of the highest quality to the most demanding collectors. Our selection includes all manufacturers in all themes and in all materials ranging from civilian and military produced in lead, plastic, and aluminum. We are located in Paris in the 15th arrondissement. Our store, with the bright red door, has attracted experienced and beginning collectors from all over the world. If you are in Paris, please come to visit us, or shop on our website where you will find all of the figures and sets available in store. Do not hesitate to contact us if you are looking for a particular piece or if you would like more details about our offerings.
We are affiliated with the CEA * chamber of experts, and can provide an expert valuation of your collection.
See you soon.
François Beaumont.
The reference of the lead soldier
François Beaumont. Expert affiliated with the CEA.

Compagnie d'Expertise en Antiquité et Objet d'art.
9 cité Trévisse – 75009 Paris
Serious packaging of professional quality.
Consignment of your purchases in store, at your request.
Delivery, insurance, etc. .. customizable according to your wishes.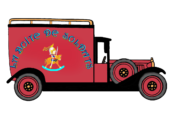 Last papers
The expression "lead soldier" is a generic term. It encompasses both plastic and tinplate soldier, as well as composition and aluminum. This quick overview of the subject will perhaps allow curious neophytes to see a little more clearly. Tin soldiers. (Soldats de plomb), (Bleisoldaten). The three great nations of the lead soldier, as we know, …

More

Memories. The oldest of us remember the window shopping on the way to school. Near these, there was always a small shop, which sold toys and sweets. Inside we were greeted by the scent of primers, Malabar and Starlux. Outside the window displayed its wonders. There were toys in every nook and cranny. The imaginary. …

More

This article will allow us to follow step by step, the process of the realization of a figurine, from its conception until its birth and its production. From the project to the realization, from the first drawings to the plaster masters, from the mold to the finished figurine: all stages of production. The study of …

More